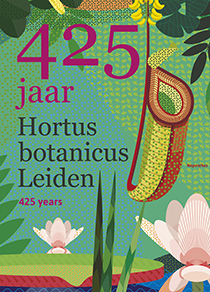 INGEZONDEN
A two-day symposium on the new tasks and challenges of botanical gardens today and in the future. The conference will take place on 17th and 18th April 2015 and will be hosted by the Hortus botanicus Leiden on the occasion of the 425th anniversary of the botanical garden.
Keynote speakers:
. Botanic gardens in a changing world, Prof. Dr. Maximilian Weigend, Director, Botanische Gärten der Universität Bonn, Germany
. The Botanic Garden of Padua, history and new science development, Prof. dr. Giorgio Casadoro, Director, Orto botanico di Padova, Italy
. Establishing New Botanic Gardens in Indonesia, Strategy and Results, Dr. Didik Widyatmoko, Director, Centre For Plant Conservation Bogor Botanic Gardens, Indonesian Institute of Sciences (LIPI), Indonesia
. New developments in science and public outreach in the Botanic Garden Meise, Dr. Steven Dessein, Director, Botanic Garden Meise, Belgium
. Bristol's New Botanic Garden: A Garden of Evolution for the 21st Century, Dr. Nick Wray, Curator, University of Bristol Botanic Garden, United Kingdom
. Botanic gardens: nice to have or essential for human survival?, Paul Smith, Botanic Gardens Conservation International (BGCI), United Kingdom
Voor details en opgave, klik hier.